News:
Press Release
July 19, 2018
The Wildlife for Everyone Foundation receives National Recognition for Pennsylvania Wildlife Magazine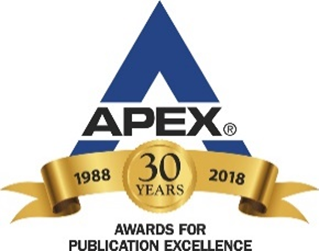 State College, PA - The Wildlife for Everyone Foundation recently received a national APEX Award of Excellence for its new magazine, Pennsylvania Wildlife. The annual APEX awards recognize excellence in publishing by professional communicators. The awards are based on excellence in graphic design, editorial content and the ability to achieve overall communications excellence. This year more than 1,400 entries competed in 100 subcategories. The Foundation's biannual magazine was recognized for excellence in design and layout in the most popular category, Magazines, Journals and Tabloids.
SDPcreative, Millersburg, PA, is the design firm that developed the concept for theFoundation's new image piece more than a year ago. The magazine conveys inspired content on conservation topics, as well as profiles of extraordinary people doing impactful work for wildlife and nature.
"We are all very proud to be able to share our story in a way that resonates with our readers and helps us connect people with nature," states Jerry Regan, president of Wildlife for Everyone Foundation.
"Wildlife for Everyone Foundation does an incredible job of educating and engaging its audience, encouraging people to enjoy the beauty of nature," noted Scott Smith, Art Director at SDPcreative. "Our team is very excited to be a part of the work they are doing," he added. Jessica Reynolds, lead graphic designer for Pennsylvania Wildlife magazine shares his sentiment, stating "The content within Pennsylvania Wildlife magazine is incredibly unique, engaging, educational and entertaining, and we strive to cultivate design to reinforce that.  We are very honored to receive this award for excellence in the communication field."
The vision of the Wildlife for Everyone Foundation is to be the leading advocate for wildlife conservation in Pennsylvania. The foundation was formed in 2004 to provide all wildlife enthusiasts with a way to show their commitment through much-needed financial support for wildlife conservation efforts and education. Since its inception, the Foundation has raised millions of dollars to support projects including wildlife and wetland habitat improvements, creek and lake restorations, the Seedlings for Schools program and student educational opportunities. The Foundation's mission connects all wildlife and nature enthusiasts to the great outdoors, including birders, hunters, anglers, students and everyone with an appreciation for nature's treasures. For more information, visit www.wildlifeforeveryone.org.
[ Return to News ]