News:
Press Release
June 8, 2022
FirstEnergy Foundation Presents Check to Wildlife for Everyone for Accessibility Improvements in Wetlands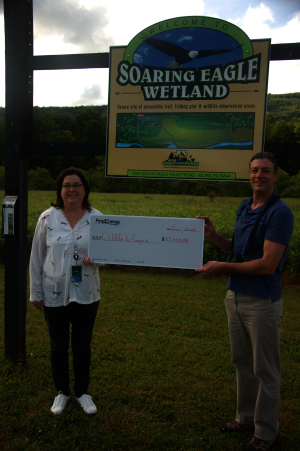 State College, PA – Joleen Hindman, Consultant, Regional External Affairs, FirstEnergy Foundation, presented a check for $10,000 to Jason Beale, Chair of the Wetland Committee, Wildlife for Everyone Foundation (WFEF) to support the accessibility improvements scheduled to begin this month in the Soaring Eagle Wetland, one of the WFEF's wetlands in Centre County. According to Hindman, the Wildlife for Everyone Foundation exemplifies FirstEnergy's core values and pillars of giving, specifically good stewardship of the community and diversity, equity and inclusion.
FirstEnergy has been a supporter of Wildlife for Everyone since 2017, providing funding for the Seedlings for Schools program and the planned accessible wetlands, as well as contributing 300 saplings to the Soaring Eagle Wetland and employee volunteers to plant them. Jason Beale remarks, "FirstEnergy's contribution highlights the investment of the community: businesses and volunteers to engage in the fulfillment of the Soaring Eagle Wetland project that will provide a publicly-accessible nature area with trails and observation areas for persons of all ability levels."
The Soaring Eagle Wetland, scheduled for construction this month, is located at 6543 South Eagle Valley Road, Huston Township. The Dreibelbis Birding Area, WFEF's completed accessible wetland, is located at 145 Miles Hollow Road, Huston Township.
---
The Wildlife for Everyone Foundation was established in 2004 to provide all wildlife enthusiasts with a way to show their commitment through much-needed financial support for wildlife conservation efforts and education. Since its inception, the Foundation has supported projects including wildlife and wetland habitat improvements, creek and lake restorations, the Seedlings for Schools and Pollinator Garden programs and student educational opportunities. Two fully accessible, ADA-compliant wetlands areas are being developed in Centre County to provide all residents of Pennsylvania with outdoor recreational opportunities regardless of physical limitation. For more information, visit www.wildlifeforeveryone.org.
[ Return to News ]