News:
Press Release
September 19, 2018
ALL SYSTEMS GO
Wildlife for Everyone Foundation Receives $250,000 Grant To Lift Off Wildlife Center
State College, PA – The Wildlife for Everyone Foundation received a $250,000 grant from the PA Department of Community and Economic Development (DCED) to kick off planning and construction of its highly-anticipated Wildlife Center, located in Huston Township, Centre County. The DCED award was granted through its Greenways, Trails and Recreation Program that funds organizations for the planning, acquisition, development, rehabilitation and repair of greenways, recreational trails, and open space. The Foundation's proposed Wildlife Center will be an ADA-certified, outdoor learning space and nature observatory that will feature a one-mile, accessible trail allowing all individuals to experience nature regardless of their physical limitation.
"The planned Wildlife Center will significantly improve the quality of life for our community and region by providing increased access to our natural resources," said Senate Majority Leader Jake Corman, who supported the Foundation's bid for state grant money. "This is an exciting project that not only encourages people to get out and experience nature, it makes experiencing the outdoors accessible to everyone. It's yet another example of why our community is a great place to live and visit."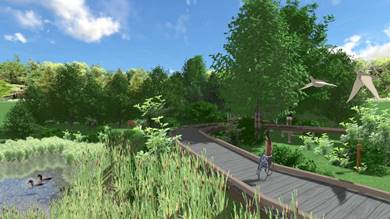 The Wildlife Center project addresses the shortage of accessible natural areas across the state that offer passive recreational opportunities for persons with disabilities. This project will meet or exceed all ADA requirements and provide full accessibility, allowing persons with physical challenges to navigate easily from the parking lot to all features of the Center including the trail loop, picnic facilities and restrooms.
The project will include a one-mile accessible boardwalk with benches and observation areas, educational pavilion with picnic tables, interpretive signage and restrooms. A handicap-accessible fishing platform is also planned.  Stream restoration on 660 feet of Bald Eagle Creek where the fishing pier will be constructed is scheduled for October 2018.
The 135-acre property gifted to the Wildlife for Everyone Foundation by the WHM Group in 2010 includes 55 acres of mitigated wetlands.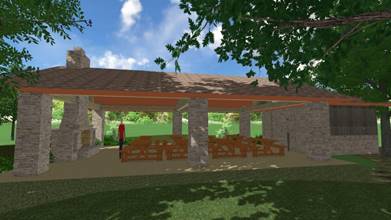 The Ridge and Julian Wetlands attract over 190 species of birds as migrants or breeding residents. The accessible Wildlife Center will capitalize on the beauty of the wetlands for the aesthetic, educational and recreational value it offers its visitors. Groundbreaking is planned for the summer of 2019.
"I am thrilled after 18 months of planning with our talented committee to receive this crucial grant for our new Wildlife Center project from the Department of Community and Economic Development, commented Jerry Regan, Chair of the Wetlands Project for the Wildlife for Everyone Foundation. "We can now get to work on the detailed drawing and bid the project out this winter. If all goes to plan, we will begin construction in the summer and have a dedication next fall. Creating accessibility for everyone is the keystone of this project and when completed, it will become a crown jewel in our state's rich outdoor heritage."
The vision of the Wildlife for Everyone Foundation is to be the leading advocate for wildlife conservation in Pennsylvania. The foundation was formed in 2004 to provide all wildlife enthusiasts with a way to show their commitment through much-needed financial support for wildlife conservation efforts and education. Since its inception, the Foundation has raised millions of dollars to support projects including wildlife and wetland habitat improvements, creek and lake restorations, the Seedlings for Schools program and student educational opportunities. The Foundation's mission connects all wildlife and nature enthusiasts to the great outdoors, including birders, hunters, anglers, students and everyone with an appreciation for nature's treasures. For more information, visit www.wildlifeforeveryone.org.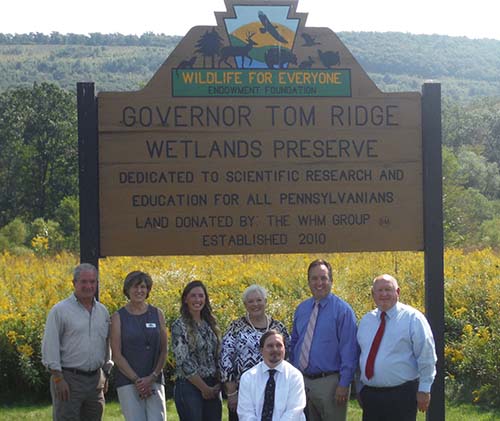 From left to right: Steve Dershem, Centre County Commissioner; Barb Schroeder, Public Relations Coordinator, Wildlife for Everyone Foundation (WFEF); Ashley Diehl, WFEF Board member; Janet Nyce, Vice Chair, WFEF Board; Jake Corman, PA Senator; Glenn Thompson, U.S. Representative; and Denny Coleman, Wildlife Center Committee member in front.
[ Return to News ]