News:
Press Release
June 30, 2020
SEDA-COG JOINT RAIL AUTHORITY CONTRIBUTES IN-KIND GIFT TO WETLAND PROJECT
State College, PA - SEDA-COG Joint Rail Authority (JRA) re-committed its agreement to build a new railroad crossing at no cost to provide access to the Soaring Eagle Wetland owned by the Wildlife for Everyone Foundation (WFEF) in Centre County. The Foundation will enhance the wetland with features that meet ADA requirements for the recreational needs of all Pennsylvanians, notably those underserved due to physical challenges. "The railroad crossing is in disrepair and has inhibited access to the wetland," notes Jerry Regan, WFEF Board member and chair of the wetland design committee. "A new railroad crossing is the first step in opening up the wetland to a greater number of people. We are grateful to the SEDA-COG Joint Rail Authority for supporting this valuable project that meets an important need," continues Regan.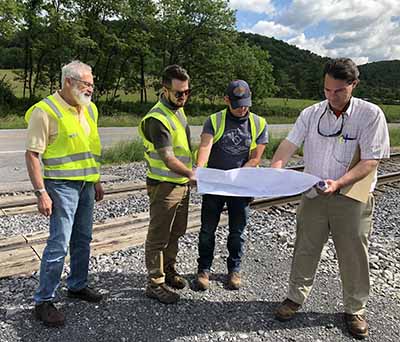 The JRA has a longstanding commitment to partnering with the community on betterment projects such as the Soaring Eagle Wetland accessible nature area. Jeff Stover, Executive Director of the SEDA-COG JRA, was inspired by the project's intent to open a nature trail for everyone regardless of physical handicap. "We are very pleased to support the Wildlife for Everyone Foundation," asserts Stover. "SEDA-COG will pay for materials and our operator, Nittany and Bald Eagle Railroad, will provide in-kind labor to make the entrance over the railroad tracks easier and safer to cross," he adds.
The WFEF Board of Directors approved an $825,000 budget for Phase One that will include an ADA-compliant trail through the wetland to a handicapped accessible fishing platform overlooking Bald Eagle Creek. A parking lot, education pavilion, restroom and observation areas are part of phase one. Regan is optimistic that a solicitation for bids will happen in the fall.
Half a million dollars in state funds from the Department of Community and Economic Development and Department of Conservation and Natural Resources have been granted for the development of the first phase. Regan stated that more support from individual donations will be needed to complete the project as designed in addition to educational signage. A 2021 dedication is anticipated.
Directions to the Soaring Eagle Wetland (formerly Tom Ridge Wetlands) may be found on the website: http://www.wildlifeforeveryone.org/wildlifecenter/. For more information, email info@wildlifeforeveryone.org or call 814-238-8138.
The Wildlife for Everyone Foundation was established in 2004 to provide all wildlife enthusiasts with a way to show their commitment through much-needed financial support for wildlife conservation efforts and education. Since its inception, the Foundation has supported projects including wildlife and wetland habitat improvements, creek and lake restorations, the Seedlings for Schools and Pollinator Garden programs and student educational opportunities. A fully accessible, ADA-compliant wetlands area that will provide residents of central Pennsylvania with an outdoor learning space and nature observatory is planned for 2021. The Foundation's mission connects all wildlife and nature enthusiasts to the great outdoors, including birders, hunters, anglers, students and everyone with an appreciation for nature's treasures. For more information, visit www.wildlifeforeveryone.org.
[ Return to News ]