News:
Press Release
September 16, 2020
SPRING CREEK RESTORATION SERVES ENVIRONMENTAL AND HUMANITARIAN BENEFIT
$17,500 Grant will improve important section of Spring Creek and pave way for accessible fishing for veterans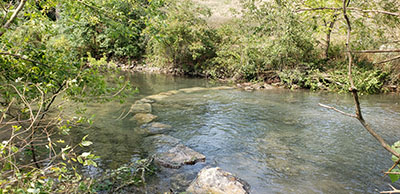 State College, PA – A 1,000-foot section of Spring Creek in College Township is primed for stream restoration, according to Dave Putnam, wildlife biologist for the US Fish and Wildlife Service office in State College. Restoration will improve water quality and fish habitat, as well as set in motion a dream of Dr. Gerry Clair, a former State College doctor. Dr. Clair, who passed away last year, was committed to making this stretch of stream accessible to veterans for fishing.
Dr. Clair served in the United State Navy, then the Air Force from 1957-1965. Aware of the therapeutic value of the fishing experience for those who suffer from physical injuries or mental issues, Dr. Clair was dedicated to making his section of Spring Creek a fishing destination for disabled veterans.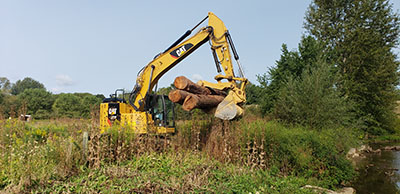 The Foundation for Pennsylvania Watersheds awarded a $17,500 grant to the Wildlife for Everyone Foundation, a conservation-focused organization headquartered in State College, which partnered with the US Fish and Wildlife Service to complete the work outlined in the grant. Restoration work will include stabilization of the creek bank to prevent bank erosion which will improve aquatic habitat. "We hope to see an increase in the multitude of macroinvertebrates and fish species," notes John Dawes, executive director of the Foundation for Pennsylvania Watersheds. Because Spring Creek is part of the Chesapeake Bay Watershed, "improvement of this section will represent a small contribution to the recovery of the Chesapeake Bay which has deteriorated in recent years due to nitrogen and sediment loading." "The side benefit of using the stream to improve the mental well-being of individuals who suffer from injury or illness is an added benefit," adds Dawes.
In accordance with Dr. Clair's wishes, the USFWS designed a trail and installed log cribbing structures to permit wheelchair access to the stream. "The trail is a work in progress," comments Putnam. "We work on it as time and funding permits." The site is accessible to utility terrain vehicles, also known as side by sides, which is how vets are transported to this section of the stream.
"In partnership with the US Fish and Wildlife Service, the Wildlife for Everyone Foundation is proud to promote conservation, wildlife and accessibility for all persons," states Russ Schleiden, chairman of the Foundation. In October, the Wildlife for Everyone Foundation will break ground on the Julian Wetland, the first of two wetlands in Centre County that will be enhanced with ADA-compliant features to make nature accessible to all persons.
The Wildlife for Everyone Foundation was established in 2004 to provide all wildlife enthusiasts with a way to show their commitment through much-needed financial support for wildlife conservation efforts and education. Since its inception, the Foundation has supported projects including wildlife and wetland habitat improvements, creek and lake restorations, the Seedlings for Schools and Pollinator Garden programs and student educational opportunities. A fully accessible, ADA-compliant wetlands area that will provide residents of central Pennsylvania with an outdoor learning space and nature observatory is planned for 2021. The Foundation's mission connects all wildlife and nature enthusiasts to the great outdoors, including birders, hunters, anglers, students and everyone with an appreciation for nature's treasures. For more information, visit www.wildlifeforeveryone.org.
[ Return to News ]