News:
Press Release
June 11, 2019
West Penn Power Supports Wildlife Center in Centre County
Contributions of Bench Allows Visitors to Enjoy Accessible Trail
State College, PA - FirstEnergy Corporation, parent company of West Penn Power that provides service to 720,000 customers in central and southwestern Pennsylvania, showed its support of the fully-accessible walking trail planned for the Wildlife for Everyone Foundation's new Wildlife Center in Centre County. Joleen Hindman, Area Manager of FirstEnergy, presented a $5,000 check to the Wildlife for Everyone Foundation to enhance the trail with an ADA compliant bench that will provide the opportunity for all visitors to rest and observe nature around them.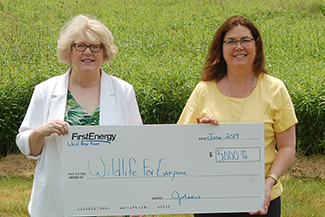 Thirteen benches will be positioned at prescribed resting intervals along the one-mile boardwalk loop trail. ADA standards for accessible design will ensure a trail that is firm, stable and slip resistant, affording persons with limitations including aging individuals, the ability to navigate easily, view the wildlife and native plants that exist there, and enjoy the restorative benefits that nature offers. "We are grateful to West Penn Power for this generous donation and support of the Wildlife Center which will benefit so many nature lovers from all over the state," remarks Susan Hawthorne, Executive Director of Wildlife for Everyone Foundation.
West Penn Power is one of 10 electric distribution company subsidiaries of FirstEnergy Corporation, headquartered in Akron, Ohio. FirstEnergy takes appropriate actions to preserve and protect the natural environment, air quality, water, land and other natural resources consistent with its mission. "We are a forward-thinking electric utility powered by a diverse team of employees committed to making customers' lives brighter, the environment better and our communities stronger," states Hindman.
Levine Engineering, LLC, Altoona, has assumed project management of the 135-acre property in Huston Township. The component 55-acre wetlands and surrounding natural area will provide passive recreational opportunities for residents of central Pennsylvania and beyond, including light hiking, bird watching, wildlife observation, fishing, picnicking and other outdoor pursuits.
The addition of the following elements will complete the Wildlife Center: an education pavilion with picnic tables, viewing platforms, accessible parking, restrooms and interpretive signage. Groundbreaking is expected in 2020.
About Wildlife for Everyone Foundation
The vision of the Wildlife for Everyone Foundation is to be the leading advocate for wildlife conservation in Pennsylvania. The foundation was formed in 2004 to provide all wildlife enthusiasts with a way to show their commitment through much-needed financial support for wildlife conservation efforts and education. Since its inception, the Foundation has raised millions of dollars to support projects including wildlife and wetland habitat improvements, creek and lake restorations, the Seedlings for Schools program and student educational opportunities. The Foundation's mission connects all wildlife and nature enthusiasts to the great outdoors, including birders, hunters, anglers, students and everyone with an appreciation for nature's treasures. For more information, visit www.wildlifeforeveryone.org.
[ Return to News ]