News:
Press Release
August 25, 2015
Campaign to Restore Hereford Manor Lake Underway
Wildlife For Everyone provides tax-deductible outlet for contributions
In an effort to restore valuable natural habitats and a dynamic community resource, the Wildlife For Everyone Endowment Foundation has partnered with Restore Hereford Manor Lake and the Beaver County Sportsmen's Conservation League to facilitate the quick repair of the Hereford Manor Lake Dam. Located less than 30 miles from downtown Pittsburgh in Franklin Township, the lake and its surrounding property encompass 428 acres critical to the community ecosystem and once valuable for fishing, boating, hunting, hiking, biking and other recreational activities.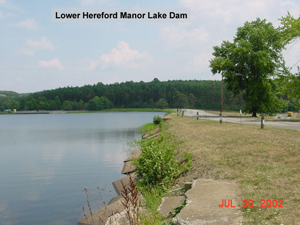 Thousands of citizens utilized Hereford Manor Lake for recreational purposes each year. In fact, it was the most fished trout lake in Pennsylvania. However, in 2011 the lake was drained when the more-than-50-year-old Hereford Manor Lake dam was classified as a high-hazard, unsafe dam. Now, the site is off-limits and sits as a dried grass basin and the lake's disappearance has strained the local economy.
Wildlife For Everyone provides an avenue for tax-deductible contributions to restore the dam and lake, recognizing the importance of Hereford Manor Lake as a community resource and wildlife habitat. Hereford Manor Lake provides vital wildlife habitat for waterfowl and aquatic creatures. It also serves as an outlet for outdoors activities for all generations.
For more information on the project, visit: http://www.restoreherefordmanorlake.org/.
A 501(c)3 non-profit organization, the Wildlife For Everyone Endowment Foundation celebrates the rich heritage of Pennsylvania wildlife, habitat, sportsmen and sportswomen. The foundation as formed to provide all wildlife enthusiasts with a way to show their commitment through much-needed financial support. Since its inception, the foundation has raised more than $2 million for projects benefiting all 480 species of wildlife and their habitat in Pennsylvania.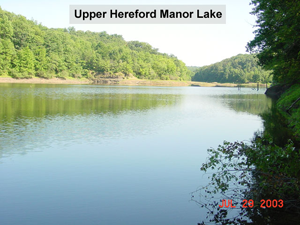 The Beaver County Sportsmen's Conservation League and Youth Foundation promote and foster the protection and conservation of renewable wildlife resources through hunting and fishing together with all pertinent natural resources and work to promote the advancement of hunting, fishing and competitive shooting sports.
To donate, please visit www.wildlifeforeveryone.org or send payment to:

Wildlife For Everyone Endowment Foundation
Restore Hereford Manor Lake
341 Science Park Road
State College, PA 16803
* photos are from prior to the lake's draining and are courtesy of the PA Fish & Boat Commission.
[ Return to News ]